Gravity picks, Unlike Dunlop, D'andrea , Dava E.t.c are a small operation operating out of Manteca California U.S.A. They supply Hand made guitar picks, Cut and Engraved by laser, and Finely Crafted from Acrylic, with Meticulous grinding and polishing to Finish the final shape. They come with the option of Custom engraving, having them unpolished, or with a hole in ( for more grip. )
Gravity picks has a wide range of picks to suit all playing styles, with Size variations of them to suit all preference, The standard shapes are:
-Classic, Rounded Tip like a Standard pick
-Razer, More pointed tip
-Striker, Shallower rounded tip.
and they all come in .75mm, 1.5mm and 3mm thickness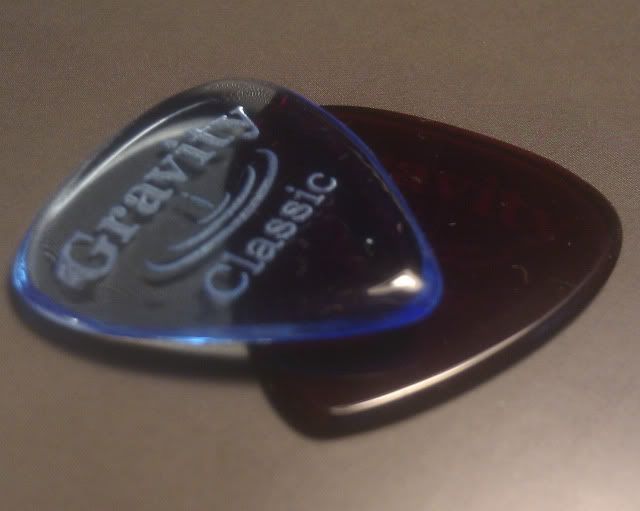 On to the review, I'll Start with the
3mm Classic
(blue)
The Strings I'm using are D'addario 10's.
First off, This pick is a monster for width, 3mm of acrylic is definitely thicker than what I'm used to, Before even picking it up i knew that this was going to be a different experience. Aesthetically its a Simple pick, Transparent blue, Logo, Gravity classic laser Etching. Nothing more. The shape is fairly standard, Comparing the tip to other picks it sits somewhere in the middle, Not Massively pointed and not overly round, a good middle ground for a pick labelled classic.
On picking it up, the width is really noticeable to someone who usually plays 1.5mm or less. although the shape is familiar, the huge chunk of pick at first feels somewhat strange. But after Five or so Minutes The 3mm Gravity Classic feels right at home in my hand, you are more aware you are holding a pick, but this is not a bad thing, One thing i noticed when using this pick was Control, I felt much more in control than when using a Standard mass produced pick. Another thing i noticed was due to the thickness of the tip, the Pick tended to glide over strings quite effortlessly, even when digging in, this is a BIG plus point for me. Sting also sounded out evenly, and rang crips and clear,. making lead and chord work a breeze.
The only downside to this pick is the thickness, and a tendency to make notes on the thinner strings sound overly harmonic ( but is that such a bad thing.?)
But after spending a little time with this pick, the thickness will grow on you, and smaller picks will feel, weedy and insignificant in comparison.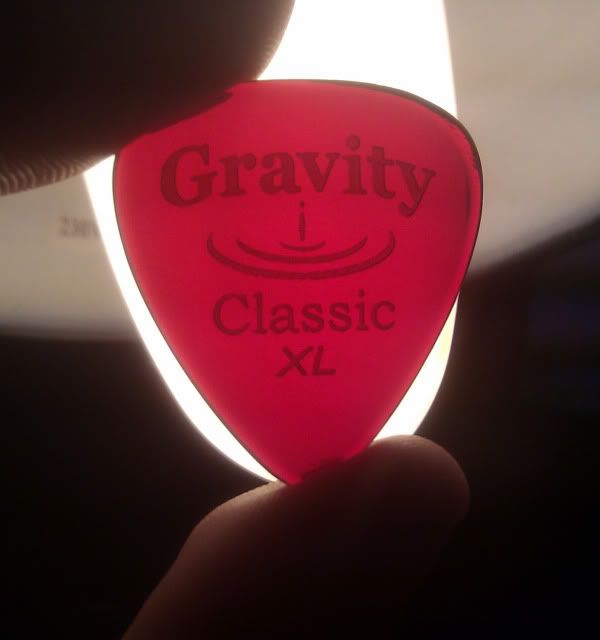 Moving on to the Gravity Classic XL 1.5m ( Red)
This pick feels a lot different to the Classic, Mainly due to the difference in thickness, although, the surface area on the Classic XL is larger, ( around 1mm overall) Although the size difference is mathematically small it is very visible.
The extra size is definitely a plus for those with sausage fingers, and the feeling is definitely less cramped. Visuals Don't differ a lot from the previous pick, apart from a red acrylic being used, and a small XL Engraved below the word classic, Although the red is too dark to see the engraving without straining your eyes, Hence the Lamp shot above.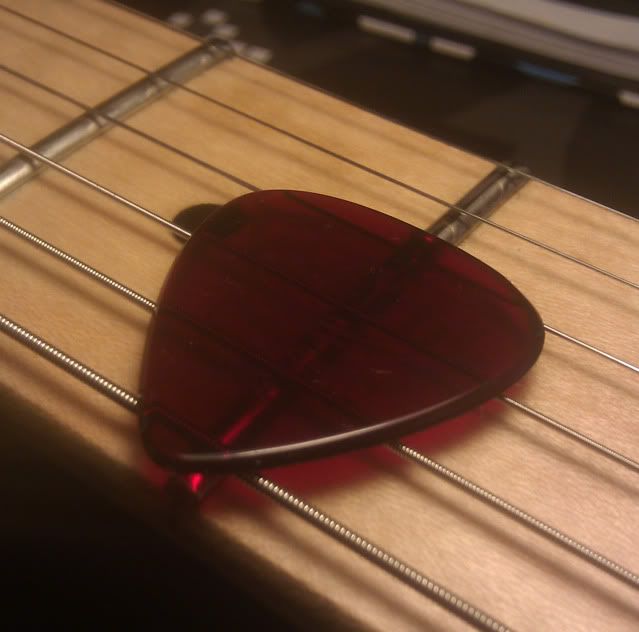 Using the pick was a fun affair, Due to the classic shape, ( and tip) i felt right at home when first picking this pick up, due to the average thickness of 1.5mm there was no major adjustments needed, although this pick is a lot thinner than the classic 3mm, its characteristics are very similar, The pick doesn't glide over the strings as much as its larger cousin, but it does a very good job of keeping evrything under control, and sounding even, although i would reccomend the Xl for chord work, as its large surface area keeps you gripping whilst bashing out any Genre.
In essence Gravity picks are Quality, and definiately worth the extra money for a quality pick, It would be nice to see some other materials used, but acryic is a great substance for picks. The variety of shapes and sizes will keep the fussiest picker happy, and they dont seem to wear down too quickly either,
A Sturdy Tonal Investment
Thanks to Chris Fahey for the great picks.
Grab them while you can at
www.gravitypicks.com